Finance Blog
How to get the best out of your vehicle trade in
Posted on 15 February 2016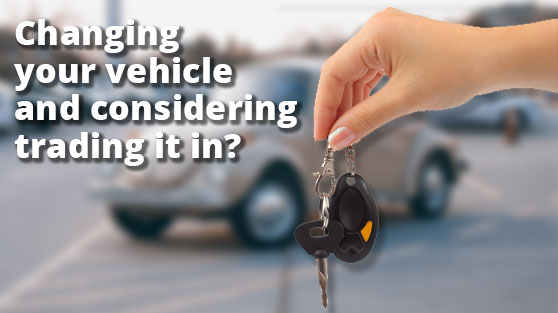 Changing your vehicle and considering trading it in? Trading can be a good option, but before you finalize the deal, take a look at these key things to know when trading in your car. What you get for your current car can make a big difference to what you'll end up paying for new wheels.
Whether you've considered selling your car privately or not, there's no denying that there are a lot of advantages to trading in with a dealer. Firstly you only need to deal with the dealer, so there's no need to meet with countless potential buyers who may never make the purchase. The sale is immediate, so there's no need to wait months for the right buyer. And because the dealer takes it off your hands you don't need to place advertising and deal with lots of ownership paperwork. Finally, you can reduce the cost of buying your new car by trading in your old car for an agreed amount.
Of course, making life so much easier has its disadvantages too. You may get less for your car than you would do selling privately because the dealer will need to be able to make money from the vehicle trade in too. And if you want to trade in your car in order to make your next, then you may be restricted by which dealer has a car you would like to buy.
So, armed with the pros and cons, if you want to proceed and trade-in your car here are the nine steps you can follow to get the best price for your car.
1. Know your car's value
It's important to know what the value of your car is before beginning negotiations. Check out one of the many sites that allow you to conduct a valuation of your car and be realistic about the condition your car is in and any damage it may have.
2. Understand your financial position
If you have debt on the car you would like to trade in, review whether the value of the car is above or below the outstanding loan value. Give one of our team a call and we can talk through the options for dealing with your outstanding debt as well as helping you work out your car loan finance options for your next purchase.
3. Consider options that could get you a better price on your vehicle trade in
Car dealers have new stock coming in at the start of the year so trading in at the end of the year when they are keen to make a sale and move older car stock could be to your advantage. It's also worth exploring other options that could get you a better vehicle trade in price like buying a more expensive car which offers a better return for the dealer.
4. Tidy up your car
It's definitely worth dealing with the surface appearance of your car before you ask someone to pay for it. Give it a good clean inside and out, and remove any personal clutter that could get in the way of someone reviewing its condition effectively. Try and do this a day or two before you actually take it into a dealership, to avoid it looking like you are desperate for a same day sale.
5. Don't do any major repairs
Car dealers will have access to cheaper parts and services than you do - so don't be tempted to go out and buy a new set of tyres or carry out any major repair work in the hope of getting a better price. If your car does need repairs you could get a quote from a reputable mechanic for the cost of the work, and keep it in your back pocket so that any price reduction based on the repairs required can be confirmed as realistic.
6. Sort out your paper work
Get your maintenance records in order and pull together all your paperwork on the car. A car that has been well looked after is going to be easier for a dealer to sell, so be prepared to demonstrate how well you have looked after yours.
7. Schedule an appointment
Car dealerships often have only one person who is skilled in appraising the value of trade in vehicles. If you want to avoid being kept waiting it's worthwhile booking an appointment in advance so you don't have to hang around.
8. Shop around for the best price
Even if you don't end up selling your car to the dealer who offers you the best price, it's worth shopping around the dealers to find out what you can get. Ask for written quotes or estimates so that you have something to show to your preferred dealer when you enter negotiations. Remember because you are trading in, you need to sell your car where you will buy your new one.
9. Negotiations
Once you enter negotiations with your preferred dealer it's a good idea to keep the negotiations for your vehicle trade in separate from negotiations on the purchase of your new car. Try and negotiate the best deal that you can on both - what you get for your current car can make a big difference to your purchase price.
If you're getting ready to go car shopping and would like to talk your car loan options, give the team at Online Car Loans a call. We've helped thousands of Kiwis get on the road by providing them with a car loan that works with their budget.
Please note, this article does not represent personal financial advice.